I haven't finished any products late, but after tidying my room, I found these empty products scattered everywhere! I was suppose to blog about them earlier this year in Jan, but totally forgot!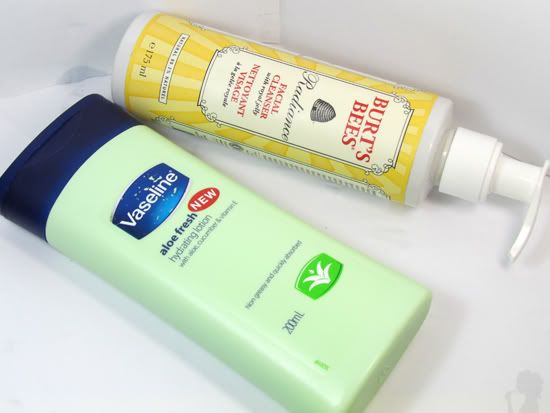 Burt's Bees Radiance Facial Cleanser is a gentle, '99.2% natural' cleanser. My skin definitely felt smooth after cleansing, but I didn't spot any radiance or extraordinary results, so that's a shame.
Vaseline Aloe Fresh Hydrating Lotion
is an okay lotion for the body.. Smells nice and does its job, but besides that, nothing too special about it really.
Herbal Essences Long Term Relationship Shampoo and Conditioner
came home with me after being quite impressed with their Leave-In Split Hair Protector (from the same range). I didn't see any results, really. I have thick, poofy and hard-to-manage hair (which I've already given up on), so all I look for are haircare products which helps me to stay dandruff-free. I personally didn't find these two to help with that (too!), so no repurchase although the packaging is so cute and fun!
Unfortunately, same goes to their
Tousle Me Softly Touchable Soft Shampoo
(I've already disposed the packaging)
and Conditioner
. Whilst my sister (who has straighter hair) love the after tousles and waves from the Tousle Me Softly range, it did nothing for my hair! Boo!
Although saying so, I'm still looking forward to try the 'Dangerously Straight' range, am I silly to still hold hope?
Has anyone tried their 'Dangerously Straight' range?
Disclaimer: Burt's Bee Radiance Facial Cleanser was a goodie from ABBW which I believe was just for display.. I didn't know until later when a blogger told me about it! Woops! :(