After my previous [disappointing] experience with the BYS basic nail polish range, I've refound another nail polish from them in my collection, from the Colour Change range.
I received this polish from the ABBW goodie bags last year, but totally forgot about it, because I hoard home new polishes from the markets every weekend! *-*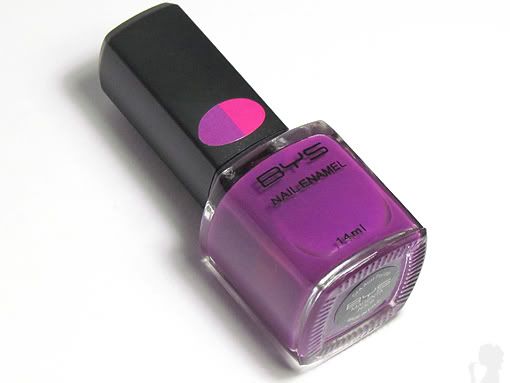 With a two-coloured sticker on the handle, it is described to 'change colours with your temperature'. Expecting this to change ten thousand times a day for Sydney's and Melbourne's moody weather. lul.
The one I own is 'Magenta' which applies as a semi-matte medium purple and then slowly changes to suit your temperature.
It can go from a berry purple (when cold) to a vampy-bruised purple and a
beautiful
, bright hot pink (when hot).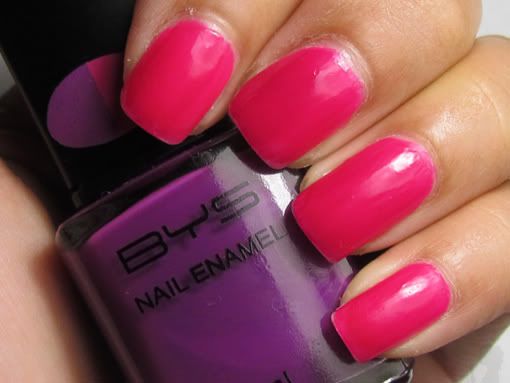 Unlike
Pretty As A Peach
, I actually didn't find ANY problems when applying at all. It wasn't streaky and gloopy, so two coats was just enough coverage!
However, it chips quite easily around the nail tips after 2-3 days which is fine by me, because it's such a fun polish to wear. But when retouching, I wouldn't slack off and apply a thicker coat over to hide the already chipped as I noticed that the more layers applied, the slower it takes to change colours!
Despite that, I am still super impressed with this polish! Currently eyeing Glitter Blue and Purple (glitter + colour change?!?!?), Bright Pink and Blue - four of the eleven shades available.
Overall
An affordable, fun and unique semi-matte colour-changing nail polish. Changes from a berry purple (cold) to a beautiful bright pink (hot) according to your temperature. Applies very well, but can chip easily after 2-3 days of wear. The thicker the layers are applied, the slower it takes to change colours.
*It was a bit hard for me to capture the true colours due to lighting problems, but I've adjusted it as close as I possibly could, so hopefully you'll get a helpful insight!