So I paid for this month's Glossybox after purchasing a box from them last month when there was a 50% off sale on GroupOn. I really couldn't afford $14.95 a month on box subscriptions so it wasn't my intention to become a subscriber.
I didn't know that if I'd purchase a GroupOn box, that means I'd be a subscriber until I want to cancel! I thought it was a one-time thing.. I personally thought it was pretty unclear.
On the brighter side, I get to show you what's in this month's box!
I love these sturdy boxes they arrive in!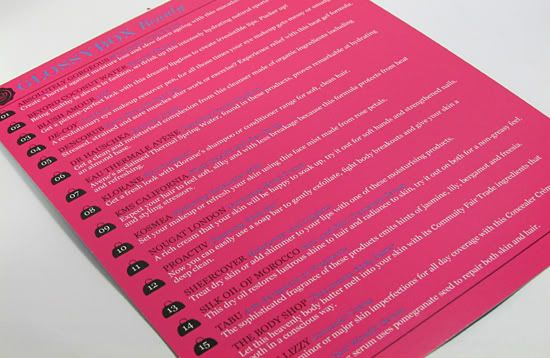 First of all, there are 18 products for this month, but your box will only contain 5 of the randomly chosen. I personally find this to be unfair for subscribers as some will get a box with higher value or products that another subscriber will find more useful and helpful. I personally think that if there's a list of different products, then subscribers should be allowed to choose OR the products should be carefully picked to cater to the subscribers' individual needs such as their skin types or conditions.
I've reviewed last month's box which was also very similar. I saw that some subbies received a total different box, so the trend probably start last month.
Anyways, for this month's box, I received:
SILK Oil Of Morocco Hair and Skin Treatment Serum
Not sure how I feel about this 'dry oil' on hair and skin. The thought of using a hair product for skin and a skin product for hair kinda irks me. Oh the goosebumps.
Kosmea Hydrating Rosewater Mist
Yay for a rosewater spritz! Rosewater as a toner is great for dry skin, so that's a yay!
Avene Gentle Milk Cleanser
Milk cleansers are generally great for all skin types so I'm actually looking forward to try out this milk cleanser. I've never tried any products from this brand (that I've heard lots about!).
Absolutely Gorgeous Macadamia Face Cream
A 'cream' product, yay! Another product for dry skin types..
SheerCover Lipgloss
I've heard bad reviews about this when it came in a MyGlam bag, so I'm not sure.
Glossybox Balance Bracelet
Errr... not useful to me and I don't believe in this stuff, so nop!
Vouchers for Absolutely Gorgeous ($10 off), Kosmea (GWP) and Zanui ($10 gift card for purchase over $50), that I will most likely not use..
Not sure about the value of products in this month's box, because there were no retail prices on the card. The skincare products are suitable for my dry skin, so that's awesome. The lip gloss is okay, let's not be so biased on the brand. The bracelet is useless for me, not going to be using it!

Lastly, one thing I've mentioned earlier in this post.. I don't like how everyone's boxes are different although it could be exciting for some.
Your thoughts?
Glossybox subscriptions are $14.95 per month with a box, visit their official site for more information.
Disclaimer: Product was purchased by me.