Towards the end of last year, I've decided to give liquid liners a go (very rarely do I use liquid eyeliners as most of them seem to always have an unattractive satin finish. Looking at reviews all over at Beauty Heaven and other beauty blogs, I was sold by the amount of rave reviews of Face Of Australia's Liquid Eyeliner.



So after trying the liner for quite a while, here's what I've came up with..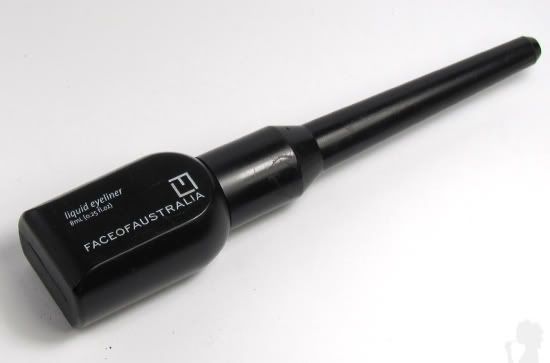 Average packaging, but I like that it can actually stand up on its flat bottom since I have a habit of applying eyeliner slowly. I hate tubed products (like mascaras, but you can't really fault them) so I like how I won't have to worry about this rolling around on the table.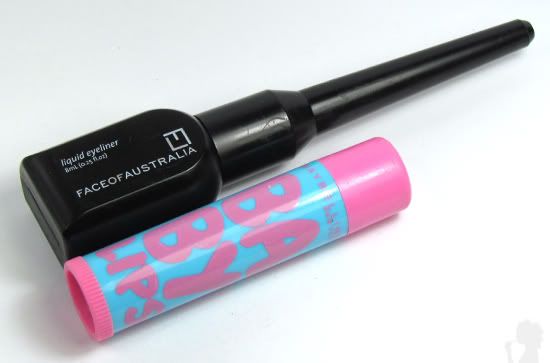 Comparison to Maybelline's Baby Lips
The brush is made of quality bristles (which I've never experienced any separating or splitting with) and shaped with an extremely fine tip. Initially, I found the brush applicator to be a tad too lengthy for my personal preference, so this liquid liner was quite hard to use at first. But after practise and practise, creating extremely thin lines with this applicator is not
at all
impossible.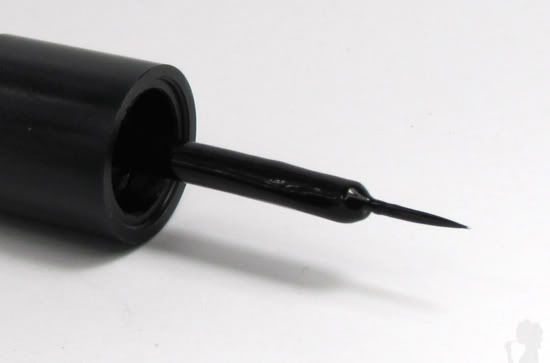 These days, what I do is just lean the brush applicator above my upper lashline and slowly slide it across. Not sure if you know what I mean, but close your eyes and use your imagination k? After that, I'll just touch up on the inner corners, wing it out (if I want), leave it for 5-10 seconds to dry and then off to my mascara routine!
As for the contained product, it is highly pigmented and water-resistant (
no,
not waterproof!) and I'm glad that it doesn't have a satin or one of those yucky 'semi-shiny' finish. Just a deep matte black... Me like.
The liner does last all day, doesn't budge, smudge or fade
only
if you leave it alone. No, it's not glue, so if you do forget and rub your eyes aggressively, don't expect this liner to stay put. But on the brighter side, if that does happen, the liner will just flake off instead of leaving your eyelids in a mess. Isn't that great? No joke.
Overall
An affordable and pigmented black liquid eyeliner which doesn't smudge, budge or fade. Water-resistant formula with a matte finish. The brush applicator has an extremely fine tip which allows you to create both precise thin lines and dramatic thick lines. However, the brush is a tad lengthy in my opinion so if you are new to liquid lining, you may struggle at first, but after practises, who knows? This may be your holy grail.
Face Of Australia Liquid Eyeliners retails for $8.95 (8mL) at Priceline, Big W, K-Mart and selected pharmacies in Australia

. For international purchases, check out
Fashion Addict
.
Disclaimer: Product was provided as part of FOA's Masterclass at ABBW. Please refer to this site's disclosure policy.