Ok, this facial cleanser is an interesting one.
Contained in a practical and
hygienic
transparent squeeze bottle, Clean&Clear's Morning Burst Facial Cleanser is a foaming cleanser 'fomulated with Bursting Beads with vitamin C and ginseng to provide nourishment for the skin', recommended for normal, oily and combination skin types.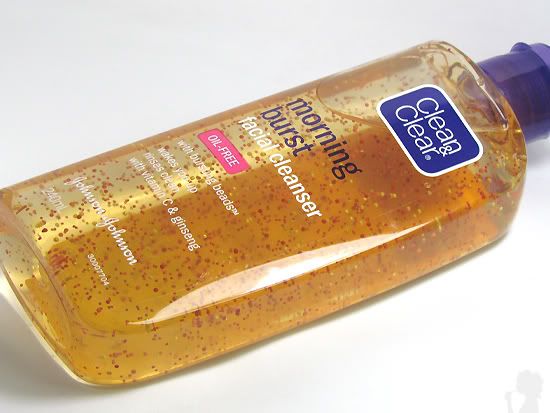 Doesn't the product inside the bottle look amazing? When I first saw it, I imagined the product to be somewhat 'scrubby' like an exfoliater, considering all the pretty beads and knowing that the range targets younger teens (in most cases, have acne-prone skin from unhealthy diet and screwed up sleeping patterns).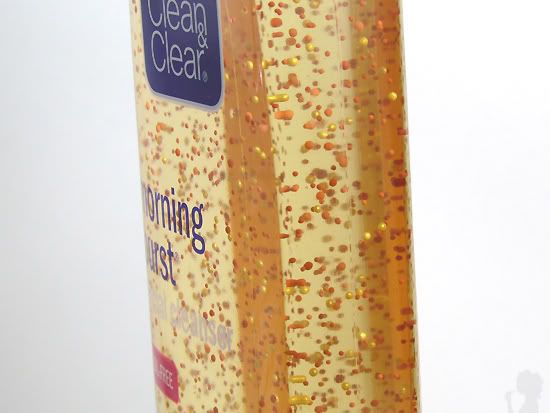 It's not though. It's just your regular gel cleanser with cute and colourful, floating beads that immediately 'bursts' as you press against them. It may look like there's lotsa beads, but most of them stick to the inside of the bottle, so I'd only get about 4-5 beads per use.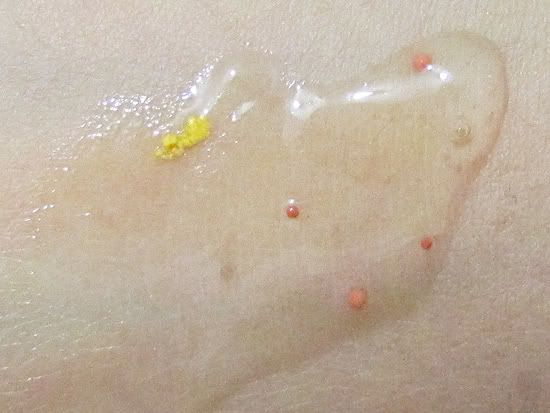 For reference, my skin lacks
[a whole lot of]
moisture and hydration in texture, but can be shiny in appearance, with fewer pimples here and there at random times. My main concerns are the drier patchy areas though, so I'd usually ditch foaming cleansers altogether
(since they can be quite abrasive)
.
To my surprise, this cleanser is impressively gentle on the skin whilst still maintaining a great job at cleansing the morning skin's impurities, although in cooler seasons, it can be a tad drying. Frankly, I didn't notice any improvements in tone, texture or appearance, although my sister
(of oily and acne-prone skin)
says she sees little improvements with her small, bumpy pimples.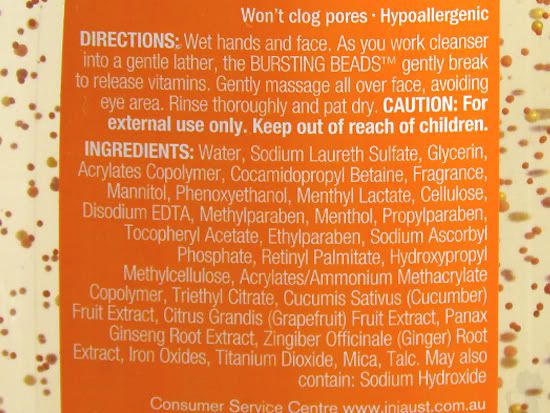 One last thing I personally love is the fresh and fruity citrus scent in this cleanser which essentially is the main deal of the overall product. It is described to help waken up the morning's skin and senses. Not sure about you, but I generally don't really work my sense of smell during cleansing routines to avoid cleanser up my nose, but when I do, I do find it to be quite nice and refreshing for the morning.
Overall
An oil-free and

hypoallergenic

gel-based cleanser formulated with tiny cute [Bursting] Beads

(proclaims to contain vitamins)

that breaks upon use. Doesn't strip off the skin's natural oils and doesn't leave that 'tight' feeling, but also doesn't provide any additional moisture. Contains a refreshing fruity citrus scent which is great for the early mornings to help freshen up both the skin and sense of smell. Product is contained in a perfect transparent squeeze bottle which is not only travel-friendly, but also allows you to see how much product is left. Most likely not the best choice for drier skin types since it does have the potential to leave the skin feeling tight and dry, especially in the cooler seasons. However, very suitable for normal, oily, combination skin and acne-prone skin.
Have you tried this cleanser or any other products by Clean&Clear?
Clean&Clear Morning Burst Facial Cleanser retails for $10.99 (240mL) at Priceline, leading supermarkets, variety stores and pharmacies.
Disclaimer: Product was provided for consideration. All opinions and comments are 100% honest and unbiased. Please refer to this site's disclosure policy.