Clean&Clear Essentials Moisturiser was one of the first fewer moisturisers I've purchased when I started taking care of ma' skin and I've wrote about this product in my
December Empties post
.. How I've been liking it for my combo-oily-dry skin and how I finally finished it to find that it was discontinued!
Fortunately, it's confirmed that the product was just repackaged and renamed with added SPF.
The moisturiser comes in a white bottle with all the information you need to know on the front and back of the bottle. From claims to directions, ingredients to manufacturing details, it can all be found on the packaging.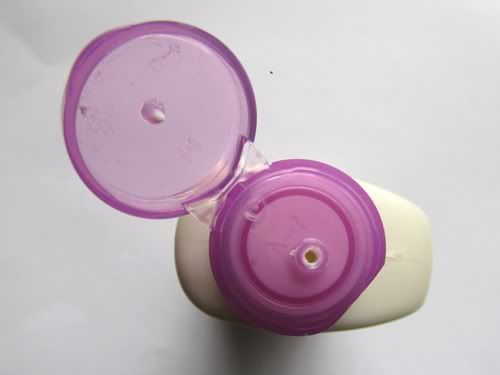 Topped with a purple cap with a small dispensing hole which is quite sanitary and travel-friendly. However, in my experience, this can get a little messy, but should be forgiveable to most users.
The product itself is just your regular white-coloured moisturising lotion with a extremely fruity scent. I usually don't mind fragrance in my skincare and cosmetics, but I found this to be a bit overwhelming. I could bear with it, but it would be nicer if it was toned down a bit.
Aside from the scent, everything about this moisturiser is perfect for normal to oily and acne-prone skin as it's oil-free, non-greasy, contains salicylic acid (to help prevent pimples) and has SPF 15. I think extremely oily skin types might feel slightly uncomfortable as it's not the most lightweight moisturiser, unless you like to be able to feel it on your skin (I do!).
This moisturiser is extremely easy to blend and sinks right into my skin right after! What I love about this moisturiser is that it leaves my skin feeling so silky and soft throughout the day!
I have to say that this new and improved formula is much better than the older one. The older one was a tad more runny and didn't leave my skin feeling smooth and silky like this one, although it was more lightweight and didn't contain an over-the-top smell.
For your convenience, there's also another version of this moisturiser which doesn't contain SPF so it'll be much more suitable for your night routine as we all know sleeping with SPF is totally necessary. *end sarcasm
Overall
This moisturiser is lightweight, oil-free, contains SPF 15 and salicylic acid, doesn't clog pores, non-greasy and leaves my skin feeling soft and silky throughout the day. A downfall could possibly be the fruity fragrance which can be a little overwhelming for those with fragrance fears. Besides that, it is perfect for all skin types (including acne-prone) except drier skin. If you flare up a tad (like me), you might be able to use this. However, drier skin types should pass to seek for a richer moisturiser which will be much more helpful.
Clean&Clear Essentials Moisturisers (100mL) retails for $7.99 at Priceline.
Disclaimer: This product was sent for consideration. Please refer to this site's disclosure policy.