I'm pretty sure we are all aware of Face Of Australia's latest launch of their Budge-proof Gel Eyeliners by now, yes? And I'm sure that we all know I'm always lagging reviews hence I've only got to it now... >_<
Face Of Australia's Budge-proof Eyeliners are packaged in cute, little pots with a detachable, clicked-on pointed brush (great for travelling!). The brush actually works really well in creating thinner lines -- alot like the brush that comes with Maybelline's Eye Studio Gel Eyeliner, but smaller in size :P
These are available in 5 shades which are all pretty wearable on its own except for Violet, methinks. My first impressions with the formula was that they're INCREDIBLY soft and creamy which makes them glide on like a dr-dr-dream!
But frankly, they're not the most pigmented out of all the ones I've tried. And I don't mean that they are the sheerest of them all, but I personally found the need to go over with a second layer for a fuller opacity. Sometimes, I also found it necessary to blot off the overloaded excess of eyeliner with my finger to minimise waiting time for it to set. Doesn't bother me too much, but I thought I'd give it a mention... Hehehe.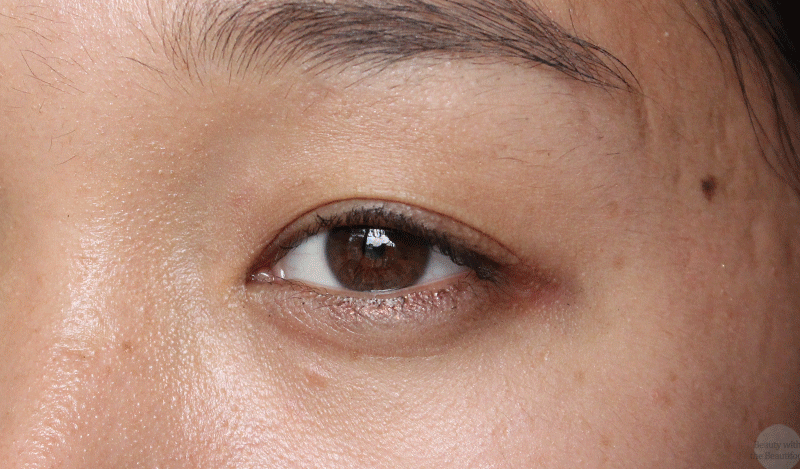 Sadly, for my hooded eyelids, I cannot go without a primer for these eyeliners would crease within the first half hour, so you guys with double eyelids would be in better luck with these when using without a primer. However, all hopes are not lost for me n my hooded lids! With a primer and blotting off the excess eyeliner, these wears well and lasts up to whopping 6 hours
(for the black shades)
and 8-9 hours
(for the other shades)
with little fading and creasing.
Pure Purple, Espresso, Brilliant Blue, Blackest Black and Blackest Shimmer
To be honest, I was somewhat disappointed in 'Black Shimmers' as a shade, since the amount of shimmers it contained is almost undetectable in the pot and on the eyes.. I truthfully don't see a point in creating such a shade if it looks very much like 'Black' >_<!
Overall, these pots of gel eyeliners surely didn't "wow" me, but I still do think they're AWESOME value for their $9.95 price tag! Best to be worn over a primer if you have hooded eyelids and for each pot you own, you also get a nifty eyeliner brush that comes along.
Speaking of the brushes, my first thought when these goodies arrived at my door was: "BAM! 5 eyeliner brushes to the collection." -- LOL Not sure about you, but there's just NEVER enough eyeliner brushes at home for my sister and I...... Mainly because no one washes them >_< Meep.
Have you tried FOA's Budgeproof Gel Eyeliners?

Would you?
Disclaimer: Products mentioned in this review was provided for review consideration only. I was not obligated to review, mention or post about these products. All opinions within this post belong to myself and remains uninfluenced and unbiased.