If you've followed my blog for a while now, you know that I'm a big fan of Australis cosmetics!
Why?

They have the most simple, but stylish and sleek packaging and great products at affordable prices. Most of all, they have the very fewer products which most lower-end brands still lack such as a make-up finishing spritz, HD products, eyeshadow primers, crackle nail polishes, lip butters and gloss sticks. I think for this reason, it makes the brand itself very unique!
However, don't get me wrong. I'm aware that no brands are perfect and that Australis DOES have those products which makes you squeal 'wth'. But forget that, I'll be sharing with you my top five picks from the brand in this post!
Ready Set Go Finishing Powder ($12.95)
This is my very first translucent powder and I'm extremely impressed with it! Read my review
here
. It's a lightweight, talc-free, mattifying translucent powder which keeps the oil at bay and actually makes my make-up feel like skin! The only downfall of this product would be its packaging as there's a tad too many sifting holes and not to mention that each hole is the size of a straw. Just kidding. Seriously though, too many large holes... you can patch it up with a piece of tape though. Should be no problem.
Colour Inject Mineral Lipsticks ($10.95)
No way on Earth will I leave this lipstick out of my 'top 5 picks'! I don't think I'd ever drop it out of my list of fave lipsticks even! It's moisturizing, pigmented and affordable with a decent long-lasting power.
My favourite?
Mambo. Lovely nudy pink. I do also own some very whacky discontinued shades (walla!) as you could see.. purple and orange. I LOVE them! I hope they'll eventually bring out a green and yellow lipstick somewhere in the future heh, it'd be fun and awesome! You can read my review
here
.
Colour Inject Mineral Lipgloss ($10.95)
I've only ever love two lipglosses in my stash of lipgloss (most are lower end) and it's the Estee Lauder Pure Colour Gloss and this baby. They are both very similar with their non-sticky formula, provides a healthy gloss and hides dry/flaky lips really well. The only difference is that the EL Pure Colour Gloss lasts a tad longer. As for the pigmentation of this, I'd say it's quite sheer but buildable. You can read my review
here
.
Paparazzi Perfect HD Blush ($12.95)
Proud to say, I'm the owner of Shoot To Thrill and Flash It! I've always wanted to try these blushers, but their '3 for 2' sale at Priceline still hasn't came so I could swipe out the whole
collection. LOL jk. I really love this blush though and Australis definitely should come out with more shades! These blushes are pretty much a trio of three shades of blushes which allows you to mix and match to your desired tone/shade. Awesome right? Not finished yet though. They are also crazily pigmented at the price of $12.95!
Now this last one was hard to pick... I was deciding between
Australis' Nail Polishes
or their Make-Up Spritz... but I'm actually not a big fan of their nail polishes besides the lovely limited edition green shade, so I figured I'd go with their spritz.
Make-Up Finishing Spritz ($14.95)
This baby, I've also carried home from ABBW and I quite like it. I wouldn't say it's anything I can't live without, but I'd definitely recommend this for those hot sunny days when you're in need for a refreshing and cooling spritz. It also claims to sets make-up while it's there, but I personally don't notice any difference. However, the spritz is still quite nice to use considering that it contains aloe vera (extract?) and rosewater with a lovely scent!
P.S. You can also use this spritz when applying mineral make-up (using the wet application).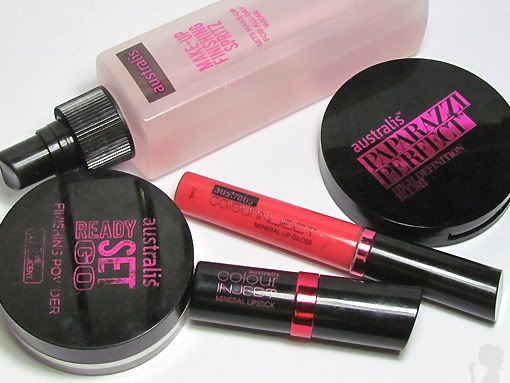 So that's my top five picks!
Have you tried any Australis products?
What are your top picks?
Disclaimer: The Paparazzi Perfect HD and Make-Up Finishing Spritz are goodies from the ABBW bags. I am not obligated to review or mention these products in my post, please refer to this site's disclaimer policy.