I know, I know.. too many B Collection's nail polishes posts!
I'm hoping to feature more brands I own, but I truly do love the cute little bottle packaging of B Collection nail polishes! Don't you?
At first glance, Memphis looked like any regular dark toned purple, but at a closer look, you can see a chocolate-brown sheen infused with slight shimmers (which unfortunately can only be seen under sunlight).
It's gorgeous though, and is perfect for these upcoming Winter in Australia here!
Love this shade!! So extremely pretty! It looks much pretty when worn than in bottle, so I think most will skip this shade when they pass it at the stores and most likely, partly due to the price tag too. At $14.95, it is more than pricey for a low-end brand.
Memphis' first coat was surprisingly sheer, but the second coat evens out just about everything. I can still see very few uneven patches which are very little noticeable and can be fixed with a third coat.
Whilst the consistency was just perfect -- non gloopy, thin or streaky, I did struggle with uneven patches (quite unnoticeable) around my cuticles where the brush tip first meets. I'm not exactly sure if it's just my personal experience or the brush is to blame.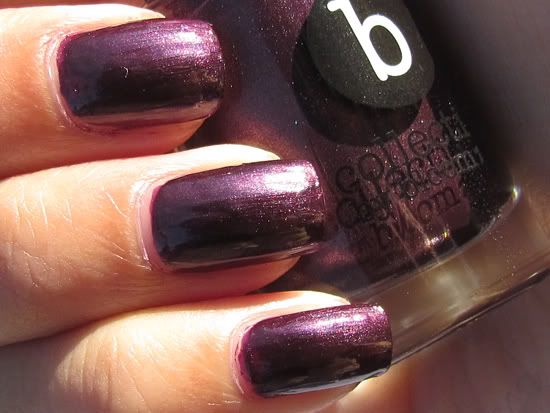 Memphis lasted well on my nails for five days with the usual tip wear, fortunately, no chips! Yipeee!

Overall, nice shade and consistency, but as always, too pricey for me! I'm glad I've purchased this only for $2.50 at the weekend markets!
Hope I won't bore you with these B Collection posts, because there will be plenty more of B Collection swatches coming your way!
You ready? ;)
What are your favourite polishes this Autumn/Winter?
B Collection
Nail Polishes retail for $14.95 per pop at your local Target. Only available in Australia.
Disclaimer: Product was purchased by me. For further information, please refer to this site's disclosure policy.