I've came to realise that I've always talked about my favourite products, but never so much of the products I don't like!
So these products are dusting in my 'unusable items' box and I wanted to overview them briefly before they are altered to a better use [which may not even be make-up related].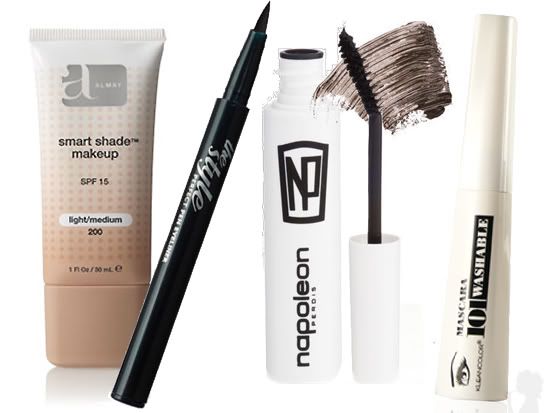 *Almay Smart Shade Make-up is number one on the list, I definitely do not recommend to anyone.
This is harsh, but..
how can anyone like this product?
Retails for $30, claims to give a beautiful and natural coverage yet
offers no coverage at all (not even a sheer/light coverage) and oxidizes to be quite orangey shade on the skin. Nuff said.
Oh.. hang on! It also claims to transform to your skin colour too!
Does it? Yes it does, but you don't pay 30 bucks for that amusing bullsh*t k?
Now that I got my biggest missed product in history out of the way, next!
*Missha The Style Perfect Pen Eyeliner ($8.99)
This was one of my first eyeliners when I've started out with make-up and I have to say that I did like it at first when I bought it home.
What made me grew to dislike it is that, I could only use it for roughly around 10 applications before I needed to replace it. The felt tip would eventually become worn out and not keep in shape which makes it difficult to use.
Adding to that, the colour 'black' isn't black, but rather a blue-ish grey and the formula is not fade-proof, smudge-proof or water-proof.
Hah.. I think I just described the perfect crap eyeliner.
*Napoleon Perdis Long Black Mascara ($35)
This was my first NP mascara and I gotta say... it doesn't lengthen [my lashes], offers very little volume and doesn't hold the curls of my Asian lashes.
What's a mascara like this for? Darken my lashes? Pft. Every other mascaras do that and also volumises and lengthens better.
P.S. They won't be costing a whopping $35 too.
*KleanColor Mascara 101 Washable
This was a tag-a-long with my make-up kit when I studied a make-up course, so I have no idea how much it costs. But this is very similar to the Napoleon Perdis Long Black Mascara (no length, no volume and doesn't hold curls), except it offers a tad more volume when applied.
So I guess if you're looking for a dupe of the Napoleon Perdis Long Black Mascara, you should check this out. *giggles*
I think I picked this up for about $21? I'm not enitrely sure, but I do find this curler to perform its job well.
What stopped me from using this and gradually abandoned this is its battery usage. It uses AA battery and it uses up the batteries SO quick! I'm not willing to purchase batteries every week for this little thing since batteries are quite expensive here. I might need to get my hands on a Panasonic [heated eyelash curler] or one by Manicare and see how that goes.
One more thing about this is its bulky packaging, though it's not heavy... it's still quite annoying and ugly.
*L.A. Colors Liquid Eyeliner
No idea whether this was a bad one or not, but it is quite clumpy so I never looked at it after trying to use it once. The formula is quite wet and 'runny' so it doesn't dry immediately and I don't digg that.
However, I do find that it's quite water resistant, but in the end, that's useless for its clumpiness.
*Revlon Mineral Lipglaze (~$17?)
Unlike the products mentioned above (basically a miss for anyone).. this product is a matter of personal preference.
This lipgloss doesn't favour me because of the overwhelming coconut scent which is oh-my-god! I hate it! I tried to use the gloss WITH the fragrance, but the gloss is actually quite sticky, feels heavy on my lips and has the tendency to smear.
So overall, I personally dislike this lip gloss.
*Revlon Matte Lipstick in Nude Attitude ($21.95)
I bought this lipstick way back when I first started make-up, because it looked SO gorgeous on xteeener & bubzbeauty! It's actually not that bad., but I still don't like it though.
This shade is much of a peachy/apricot nude which doesn't quite suit me.
Makes me look like a dead fish, BUT I'm not complaining about the shade. The formula is unforgivable for how it accentuates the dryness/flakiness of my lips... and my lips aren't even dry to start off with! I do try to save this lipstick by priming my lips with a lip-balm before application, but it stills bring out as much dryness! Poo!
I find that the only times that this lipstick will work is when my lips are in perfect conditions (not overly moisturized or dry). Till then, it glides on very smoothly! Still makes me look dead though.
At the end of the day, this is more of a miss for me though I know some of you probably digg it. Sorry, but I'm not willing to wait and only use this for everytime my lips are in perfect condition. It's okay though. I have to admit that this is the better miss out of the bunch since I can use it to when I need to fake being sick or in a special inspired make-up look.
Hope you found this post helpful! Your turn to share!
Which products have you considered 'forever a miss'?